Indian Media Houses also termed as "Presstitutes" are known for providing False and Incorrect News to the nation. We present you the 10 Biggest lies Spread by Indian Media Houses in the Month of September 2015:
1) 2nd September 2015: NDTV – Scholar MM Kalburgi's Murder: No Sketches, No Questioning, Preoccupied Cops
Above story was written by Sreenivasan Jain and was published on 2nd September at 2.45pm and update at 3.04pm IST again. One of the claims made by Jain was that the cops had not released the sketches of the assailants.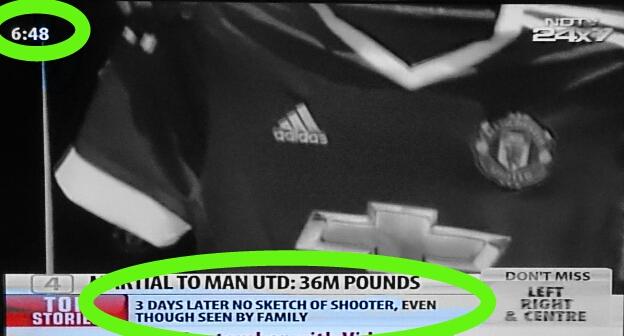 As at 3.04pm, Jain & NDTV stuck to this claim. Within 2 hours Commissioner of Police Hubli-Dharwad tweeted sketches of the assailants. So was the police forced to act, that too so swiftly, because of Jain's stellar journalism? Was the tweet by the commissioner the first instance of releasing the sketches? Or were they released offline before this? We do not know. But even upto 6.48 pm, NDTV continued to splash the same news on TV that sketches have not been released. From this it was clear that even assuming the sketches were actually released at 5pm, NDTV did no correct their reporting until almost 2 hours after the incident. Later, NDTV changed the entire report and deleted the part where they said sketches were not released.
2)  2 September 2015: Scroll.in – Marathas collected Zakat only from Muslims.
In a motivated post solely meant to whitewash Aurangzeb's tyrannical legacy, a point was made that much like the Jizya tax which Aurangzeb levied solely on non-Muslims, the Marathas had a tax called Zakat which was meant only for Muslims. This claim was rebutted by multiple people on social media. Exhibit 1: an extract from the book "Administrative Systems of the Marathas" by Surendra Nath Sen" which clearly says Zakat was collected from all traders irrespective of religion and that it had lost its original meaning of "religious tax". Exhibit 2: an extract from the book "Advanced Study in the History of Modern India" which again says something similar. Exhibit 3: A research paper titled "A Historical Study of The Economic Policy of Marathas: Trade and Tax" which reiterates above facts. Even the source of original article did not say that Zakat was collected only from Muslims.
3) 4 September 2015: The Hindu – Greenpeace India's registration cancelled
This erroneous report in The Hindu calimed "Five months after it suspended its licence to receive foreign donations, the Ministry of Home Affairs (MHA) cancelled the registration of Greenpeace India on Wednesday." In the following paragraphs it elaborated that this was only a cancellation of FCRA license. This fact was well reported by media and also as per Greenpeace's own statement too, it was clear that only the FCRA license was cancelled and not "Greenpeace India's registration"
4) 6 September 2015: India Today – "Govt considering covert ops to take down Dawood," says Rajyavardhan Singh Rathore.
India Today, and interviewer Rahul Kanwal, claimed that Rathore told him that "Govt was
considering covert ops to take down Dawood".  This became a big topic of outrage since a minister was openly admitting to covert ops. But no such statement was found when the interview was played. This becomes even more important because India Today had clearly put Rathore's words in quotes, meaning he had to say the exact thing, bu he did not even come close. Here is a full transcript of the relevant portion. We are still awaiting Rahul Kanwal's reply to show the exact place where Rathore said those exact words.
5) 7th September 2015: The Hindu – IAS officer bypassed Home secretary and directly went to Home Minister.
In an article focussing on some other bureaucrat, The Hindu made a passing statement that another bureaucrat Anant Kumar Singh, bypassed the home secretary and took a file relating to a transfer, directly to the Home Minister. This charge was rebutted by Singh. He wrote a letter to The Hindu denying the allegations. He clearly mentioned that he scrupulously followed all procedures, never bypassed the Home Secretary and did not violate any such rule in his tenure. The Hindu carried this letter as a "Clarification from ex-Additional Secretary" in one of the inner pages and did not rebut any of his counter-claims
6) 10 September 2015: Multiple Media houses – Gurgaon police chief on "special" leave. 
There were multiple news reports like the above which said Gurgaon police chief was going/sent on "special" leave, which the department claimed was "routine". The aim was to cast aspersions on the absence of the officer in light of the news of the heinous rape case involving a Saudi Diplomat which broke around 9th September. Objecting to such innuendo filled news items, Gurgaon Police departmentreleased the leave application and sacntion letters. The letters clearly showed that the leave was applied for on 3rd September, and also granted then, which was much before the rape case came into news. Eventually the officer cut his leave short and resumed investigations.
7) 11 September 2015 –  NDTV: Rakesh Maria investigated the 7/11 blasts. 
In a story which was later edited by NDTV, it was claimed that
 Rakesh Maria had investigated the 7/11 blasts which Shocked Mumbai. A lawyer who had worked on the case tweeted that this was incorrect after which NDTV changed the story.
8) 15th September 2015: The Indian Express – Gen V K Singh's statement at Vishwa Hindi Sammelan
This report appearing under "Delhi Confidential" which is essentially a gossip column claimed that a publisher close to Gen V K Singh could not secure a seat at the Vishwa Hindi Sammelan, because of the Sangh Parivar's control over the invitee list. Immediately, the report continued to report that later V K Singh "angered Hindi writers by commenting that they attended such gatherings to drink and eat". The first part, that a publisher friend of V K Singh couldn't get through was refuted by the General on twitter. He said he had no "favourite publisher" and that the Sammelan was not for publishers. The indirect claim out forth by Indian Express that as a result of this, Singh had an outburst and the the outburst itself, that the writers had come only for only to drink and eat, also seem to be wrong. From this audio clip, it is clear that Singh had in fact said, some people may feel that earlier they would come eat, drink and go, but this time nothing of that sort has happened. So rather than a jibe at the authors present, as presented by Indian Express, it was a jibe at previous such conferences.
9) 17 September 2015: India Today – Majid & AR cannot make a movie that is inflammatory and would hurt sentiments of a particular community – Shabana Azmi. 
Call it constraints of 140 characters, extremely poor paraphrasing or deliberate spin. India Today made a complete hotch-potch of Shabana Azmis' views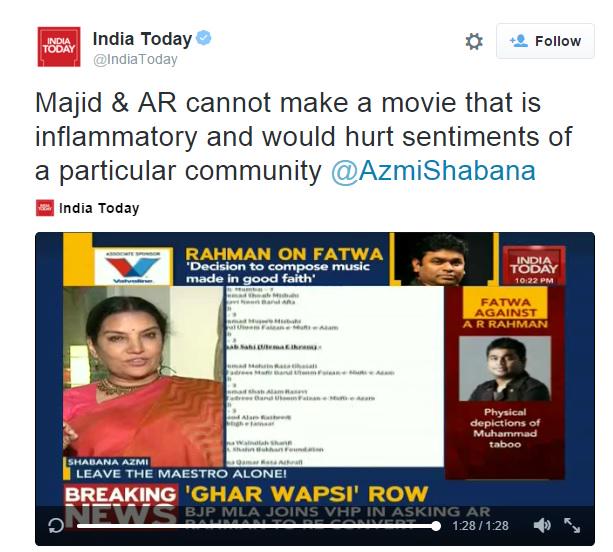 which led to a lot of misinterpretation and outrage. First, see what India Today reported her as saying, as per the screenshot attached. From her statement, it would seem to anyone that Azmi felt that such a film cannot be made if it hurts a community's sentiments. For this alleged statement she was ridiculed by all and sundry. But when one saw the video in the tweet, one could see she said something totally different:
I have not watched the movie but I can only surmise that it is hardly likely that people of the integrity of A R Rahman and Majid Majidi would make a film that is inflammatory or would hurt the sentiments of a particular community.
Azmi had in fact said the believed they could never make a film which would be inflammatory. But India Today completely twisted her argument. This has become a habit for India Today, of twisting statements of celebrities, after Salim Khan's last month  and Rajyavardhan Singh Rathore as above.
10) 21 September 2015: A Leading Newspaper(Unknown Media) –  Raveena Tandon's mother dead
A Leading NewsPaper Carried Out Obituary For Mother Which Left Raveena Tandon And Bollywood Shocked
Raveena Tandon says her mother is 'hale and hearty', after a newspaper carried out her 'obituary' report. Raveena, 40, took to Twitter and posted a photograph of her mother Veena, who is seen dancing at a function.
The actress said she received an apology for the report, which was carried out by a journalist who knows her for years, adding, "this proves media not checking facts at all anymore!"
Credits: OPINDIA
Comments
comments