Election Dates Declared:-
Over 16 crore people will vote in this year's assembly elections in five states – Uttar Pradesh, Punjab, Uttrakhand, Manipur and Goa.
Goa to go on polls on February 4
Punjab to face vote on February 4
Uttarakhand February 15
Manipur (2 phases) March 4 and 8
Uttar Pradesh (7 phases):
1st phase Feb 11,
2nd phase Feb 15,
3rd Phase Feb 19,
4th phase Feb 23
5th Phase Feb 27
6th Phase Mar 4
7th Phase Mar 8
EC also laid out directives before the polls, these include:
1) The limit for expenses for candidates is Rs 28 lakh for UP, Punjab, Uttarakhand and Rs 20 lakh for Manipur and Goa.
2) EC will focus on paid news. Press Council of India will help the commission in detection of paid news.
3) There will be strict expenditure monitor mechanism to curb black money.
4) Model code of conduct comes into effect from announcement of polls.
Counting of votes all five states will be done on 11th March 2017.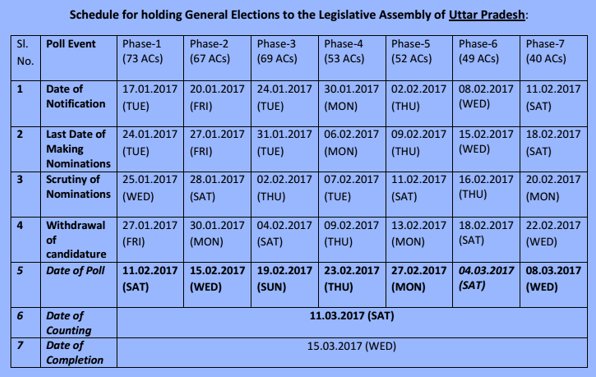 Comments
comments