A lady professor from Tamil Nadu, Nirmala Devi, of Madurai Kamaraj university was recently arrested for allegedly luring students to get involved in sex work. The audio of the professor having a conversation with the girls was leaked in social media and this has taken Tamil Nadu by a storm.
நிர்மலா தேவிக்கு எதிராகக் கல்லூரி வாசலில் கொந்தளித்த பொதுமக்கள்! #Nirmaladevi #Protest https://t.co/chwfGnBb4n pic.twitter.com/AWKsVSGLgg

— விகடன் (@vikatan) April 16, 2018
Unfortunately this information is now being manipulated falsely into an Anti-BJP narrative by certain social media teams in Tamil Nadu. The social media teams which are leaning towards the Anti-BJP plank are trying to hijack this situation. They have recently tried to link this with a lady from Tamil Nadu BJP named Jessie Muralidharan, and suggested that Jessie Muralidharan is the arrested professor Nirmala Devi.
The resemblance between both the ladies are actually not even close. Even with a clear difference between the faces of the both the women, social media teams of the Anti-BJP forces are able to prefabricate a lie saying that BJP's Jessie Muralidharan is none other than the arrested professor, Nirmaladevi.
DMK IT Deputy Secretary Isai (@Isai_), had initially tweeted this fake information against the BJP member Jessie Muralidharan, which was later deleted.
Translation: If the education becomes saffron, the price will be spoken for the chastity of the children.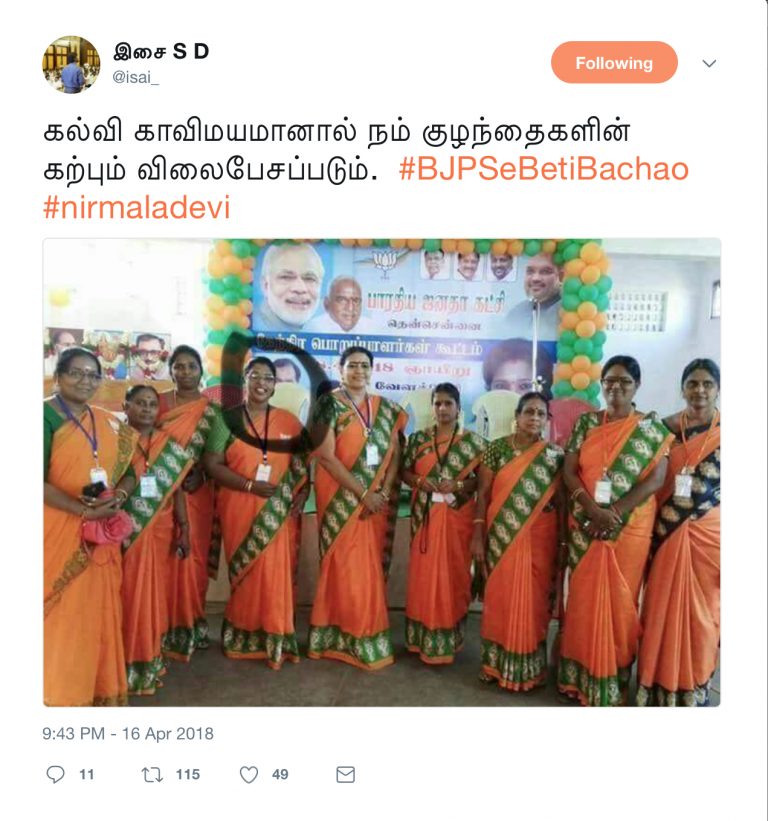 Soon this fake tweet had been re-tweeted by several twitter users, without verifying the content.
#Nirmaladevi is from BJP pic.twitter.com/FvidSUKUYC

— Richard Parker (@myRichardParker) April 16, 2018
Who is the lady next to #Nirmaladevi. She looks more influential than #Nirmaladevi in BJP. pic.twitter.com/loXexZ6qeC

— soma (@mc495028) April 18, 2018
https://twitter.com/kar2000k/status/985938808439955456
It should also be noted that the mentioned BJP member, Jessie Muralidharan, was once a member of DMK.
BJP functionary Jessy Muralidharan's picture is being circulated by DMK social media wing, as Nirmala Devi of Devangar Arts College, and paints her saffron, now the motive is clearly to implicate BJP for reasons! pic.twitter.com/OzmEG87CJC

— Ethirajan Srinivasan (@Ethirajans) April 17, 2018
Jessy Muralidharan with DMK's TKS Elangovan, she was part of DMK before, the one #DMK's social media wing is circulating as Nirmala Devi, of Devangar Arts College, who lured her students. pic.twitter.com/rDk162P42h

— Ethirajan Srinivasan (@Ethirajans) April 17, 2018
This information was later debunked by several twitter users in social media. BJP member Jessie Muralidharan had released a video questioning the intent of the DMK members for sharing this false information.
— Jaganathan G (@jaganathang54) April 19, 2018
Comments
comments