Bollyood has always been supporting Anti National elements one way of the other. Be it for recruiting Pakistani artists, when our Indian ones are struggling to get a breakthrough or by crying intolerance selectively and supporting Award Wapsi. Their hypocrisy is seen every day.
With PM Modi's decision to demonetize Rs 1000 and Rs 500, many of these are in shock as they could have pilled up money from likes of Dawood and others, who are known to fund their movies.
In one of such instances, Arshad Warsi took to twitter and started criticizing the anti black money move probably because he might have some. He was shown his face in mirror by other tweeples.
This is what he tweeted.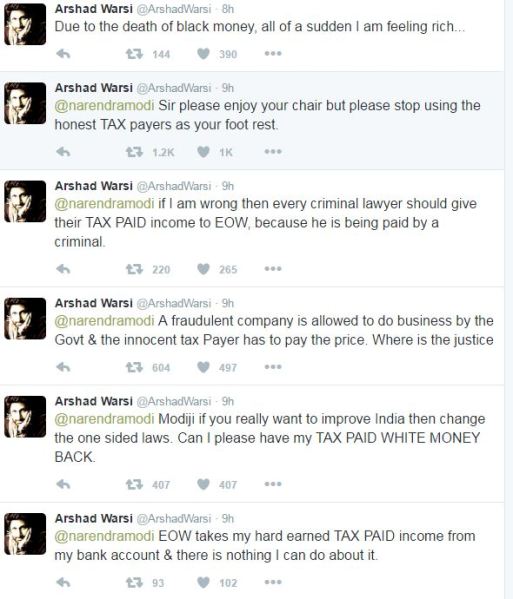 And here's how gets perfect slap.
If you were an honest tax payer you wouldn't have felt like a foot rest. https://t.co/Cq0iUw0Yf9

— Maithun Kashmiri (@Being_Humor) November 11, 2016
Aaj " circuit" "short circuit" ho Gaya hai @ArshadWarsi 😂😂

— Calvin Hobbes (@icalvinhobbes) November 11, 2016
Actor @ArshadWarsi loses ₹23.7 crores of black money. – sources. pic.twitter.com/nc3hCweSHQ

— Republic Hour (@Republic__Hour) November 11, 2016
Dear @ArshadWarsi ji please tag @IncomeTaxIndia or if u want to mk it political then @ArvindKejriwal .. @narendramodi is out of country

— 💥 (@Gajodhar_007) November 11, 2016
Writing random things to get rt from anti – corruption crusader shri @ArvindKejriwal ji https://t.co/msj2Ehe2Hr

— Maithun Kashmiri (@Being_Humor) November 11, 2016
What do you think about this? Let us know in comments section
Comments
comments